Office Automation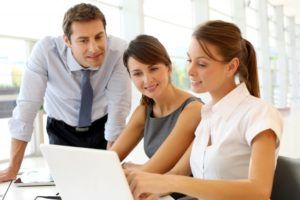 Stay up-to-date on your office software
All of the office training programs we offer have been the subject of in-depth studies, motivated above all by the pursuit of excellence. This principle allows us to achieve a high quality standard, making our training center a safe and recognized value. Whether you want to take a public or private course, the same motivation and the same rigor will accompany you throughout your training.
Our lesson plans are designed by a team of experienced instructors and reflect a good balance of theory and practice. Our method consists in a division of the functions of the software in structured modules and chained not relations of order determined by the software: either from the simplest to the most complex, or by a logical order (the learning of a module requiring the control another module).
Assessing your needs
Public training
To enable you to choose the most appropriate public training for your needs, we invite you to pre-evaluate your knowledge free of charge through our evaluation forms.
Private training
In order to offer you a realistic and effective training plan, we systematically carry out a personalized assessment of your needs to validate your objectives and your expectations with regard to the chosen training. This step is free, informal and without commitment on your part.